IT Operations Analytics (ITOA)
Linking relevant IT data to business information, for more predictable and manageable IT landscapes.
Bringing all insights together
IT-environments are becoming more and more complex because of an increase in the amount of changes, IT suppliers and (micro)services. Trying to control these new forms of complexity without automating operational processes often result in performance problems and application instability. When IT doesn't work like it is supposed to, it leads to a heavy workload for the IT department, frustrated and dissatisfied end-users, loss of revenue and damage to the brand image. IT Operations Analytics is the solution to make IT better manageable and more predictable.
Unfortunately, there is not one monitoring solution that can battle all IT challenges. Most organizations that aim to deliver high quality IT services, will therefore have multiple Application Performance Management (APM) tools in place. However, it will remain quite a challenge to manage a large and complex APM landscape and prioritize all insights available. IT Operations Analytics (ITOA) is the next step after APM, bringing all these insights together. ITOA correlates different data sources with business KPI's so organizations can act on time and on the right events. This way incidents can be prevented, IT operations become better manageable and performance deviations have no more impact on business.
Intelligent event management
ITOA delivers events from all your APM solutions, finding that one Root Cause you need, to fix you highest priority incident. With ITOA Event Management you can detect faster, fix faster and reduce monitoring efforts.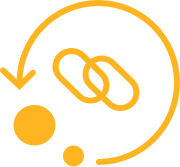 Linking IT-data to business information
IT Operations Analytics links relevant IT monitoring insights, to business information, enabling you to predict your business KPI performance. This will showcase IT's added value for your company.
Continuous improvement based on facts
With the right, factual ITOA insights available, it will become more easy to make the right decision. This helps your organization and responsible teams to continuously improve processes and results.
Artificial intelligence for IT operations
ITOA delivers a data stream you can mine using artificial intelligence and pattern recognition. When done right you can predict and prevent incidents before they happen, delivering true AIOps.
Insights with IT Operations Analytics
The journey of ITOA
Sentia defines five steps to grow to an empowered state of IT Operations. When organizations start being "reactive", they first grow to become "aware" and "proactive" before ITOA comes into play in the last two maturity stages.
As an independent partner, Sentia can support this ITOA journey with best practices for People, Processes and Technology.
How does it work?
ITOA is not a tool. It is a way of working which needs to be implemented bespoke for your organization. ITOA uses big data technology and collects insights from all APM tools that are already in place. The better and more complete the APM insights are, the better an ITOA strategy works. By collecting all relevant monitoring data, an operational data lake is created with unlimited virtual possibilities. Blind spots can be identified and filled while predictive insights become a reality. The results of an ITOA strategy thus depend on the data available, the challenges to battle and the business drivers of an organization.
Artificial intelligence and machine learning
ITOA gives insights to make calculated decisions about a single application, a critical chain or an IT-landscape. The best in class APM application Sentia provides can detect abnormal situations out of big chunks of operational and business data. You can do this for a specific small challenge but when true operational big data is necessary to manage your IT, look to AIOps. Artificial intelligence within the application learns how the applications should behave and can detect when there are deviations from the norm. Furthermore with machine learning and smart algorithms, the patterns of past events can predict disturbance in the future. When an event occurs that is recognized, steps can be taken quickly before it causes harm.
A little spark can lead to great things
You just need to know how to ignite it.
Contact us using the option below or get in touch
via info@sentia.com
Drive positive business outcome using Digital Experience Monitoring
Although IT services can look good from an IT perspective, end-users can still experience it as 'slow', and have a negative digital experience. By monitoring the complete digital experience of your end-users, you can get (back) in control.
See how »